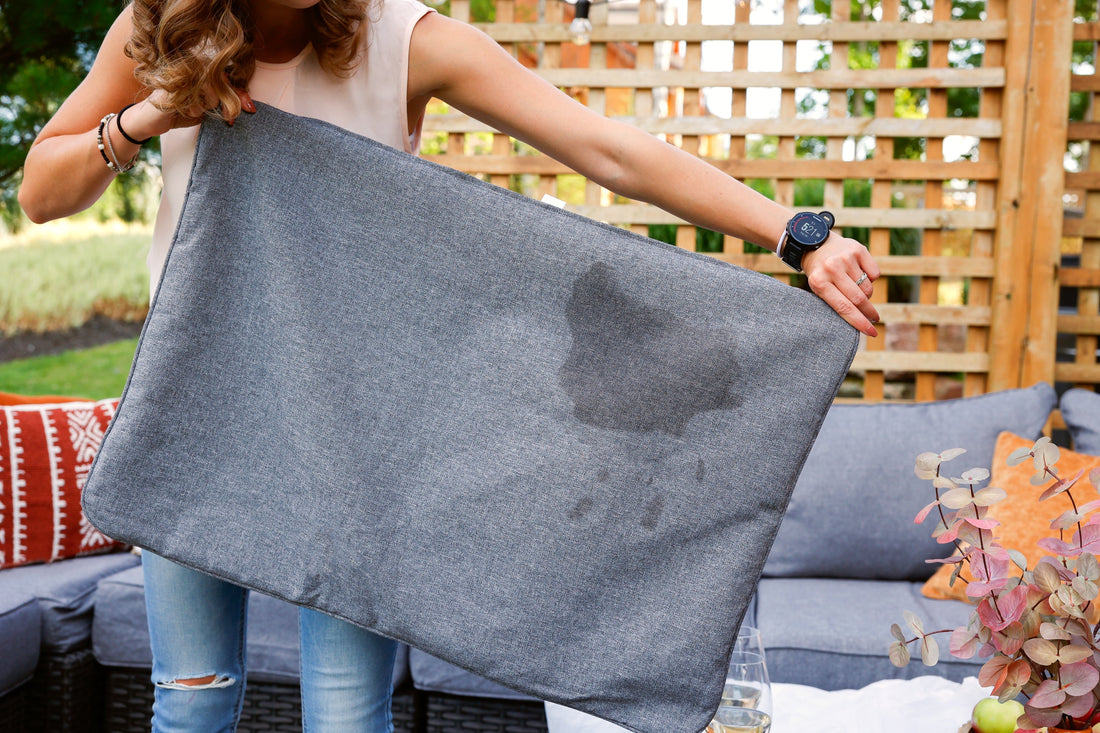 How to Clean Outdoor Patio Furniture
Share
The right patio furniture can enhance your outdoor area and social gatherings by offering comfortable places to sit, eat, and enjoy the outdoors with your family and friends. If properly maintained and cared for, most outdoor furniture can last for years, withstanding all sorts of weather conditions.
Keeping your outdoor furniture clean with regular cleaning, putting in a little elbow grease to care for minor damages, and checking your manufacturer's instructions will help keep your patio set, high or low maintenance, in tip-top shape.
Read on to learn how to clean outdoor patio furniture.
How to take care of outdoor furniture
Unlike indoor furniture, outdoor pieces must weather the elements while in your outdoor space.
Many furniture manufacturers build furniture keeping this in mind and use durable materials that are fade-resistant, water-repellent, weather resistant, and moisture-resistant to withstand all types of weather conditions in outdoor spaces. Outdoor furniture must contend with droppings from trees, bugs, facing the sun, wind, rain, and spills from seated visitors.
To combat these elements and more, cleaning patio furniture will help care for your patio set and keep it looking new.
Cleaning the furniture by removing mildew stains and loose dirt and routinely wiping down the furniture to remove scuff marks and restore shine are great ways to care for outdoor furniture. Some higher-maintenance furniture materials require more care, but for some materials, an annual deep clean is a great way to care for your patio set.
Storing and protecting your furniture will also help you care for your outdoor furniture. To protect and care for your furniture of any material, consider using removable covers to protect furniture when it is not in use or storing outdoor furniture in a shed or garage where it stays safe from the outdoor elements.
Best material for outdoor furniture
The best material for outdoor furniture depends largely on how you want the furniture to work for you. Some materials are better than others when it comes to cost, durability, versatility, and comfort.
The most popular choices for outdoor furniture include wood furniture, plastic furniture, hardwood furniture, aluminum furniture, metal furniture, teak furniture, resin furniture, wrought iron, all-weather wicker, and sunbrella fabric for upholstered outdoor cushions.
Often, the best materials for outdoor furniture are lightweight and adjustable, so you can create different seating configurations throughout the season, whether you're hosting a few of your closest friends or a larger party. Check out the Transformer Patio Conversation Set that can nearly double in size in seconds, changing to seat six to ten people comfortably.
Choosing which material is best for you takes careful consideration. Learn more about the best material for outdoor furniture here. [link to the article I wrote "Best Material for Outdoor Furniture"].
How to clean outdoor furniture
Many of the most popular types of outdoor furniture can be cleaned similarly, but to ensure you're cleaning your patio furniture effectively, be sure to check the instructions of your manufacturer's manual.
Wicker Furniture
Outdoor wicker patio furniture is made with synthetic material to stand up to the weather elements and moisture it faces while outside. High-end resin wicker will last even in the harshest environments, and will last even longer when cleaned and maintained properly.
While all-weather wicker is highly durable, the weaved style can make cleaning slightly difficult.
First, remove cushions and pillows

Use a scrub brush to remove debris

Try using a vacuum or a leaf blower to remove any objects or debris that may have gotten caught in the weave of the material.

For harder-to-remove debris, try using the brush attachment of a vacuum or a gentle setting on your power washer

Use a brush with soapy warm water to clean the surface and remove stains

Rinse the material with a garden hose or clean water to remove all soap

Remove excess water with paper towels

Allow the patio furniture to air dry away from the sun
Metal Furniture
While metal patio furniture can look great, it is prone to rust and stain. Caring for your metallic furniture with a seasonal deep clean can keep your furniture looking great for years.
Most metal furniture can be cleaned similarly, but be sure to check your manufacturer's notes for any special instructions.
Clear the metal furniture of any upholstered cushions or added décor

Use a garden hose to spray down your frames to clear dirt or debris

Using a soft cloth in soapy warm water, gently rub the metal surfaces with clean water

Dry the furniture with a mild abrasive cloth
Be sure to use a soft cloth to wipe down your metal outdoor furniture, not abrasive cleaners or brushes (such as steel wool) that could scratch the surface of metal patio furniture.
Stainless Steel Furniture
Much like stainless steel appliances, stainless steel patio furniture can look sleek until greasy fingerprints or water from the rain or dew leave their mark, making the stainless steel look dirty.
For watermarks
Clean the stainless steel furniture the same way you'd clean metal furniture and remove it from the sun to air dry.
For rust marks
Make a paste of baking soda and water, and with a soft brush, scrub the rust in the direction of the grain and rinse with clean water.
For streaks and fingerprints
Use white vinegar to rub the area with a soft rag and rinse with water.
Wood Furniture
Most wooden patio furniture is made from hardwood and can be cleaned and cared for similarly:
Use a soft-bristled brush to remove debris from the furniture

Use a damp cloth with lukewarm soapy water to get the surface clean

Clean up excess water with a microfiber cloth

Let the wood air dry
If you start to notice mold or mildew on wooden patio furniture (common in warm, humid conditions), it's important to clean up the affected areas to keep your patio furniture looking new and to protect people and pets from potential health risks.
If, after cleaning as above, you still see mildew or mold, you can make your own DIY cleaning solution using one cup of ammonia, 1/2 cup of white vinegar, 1/4 baking soda, and 1 gallon of warm/hot water.
Some wood furniture (such as teak wood) also requires regular oil treatment to maintain the color and smoothness of the wood. Be sure to clean teak wood and other similar wooden patio furniture thoroughly before applying oil.
How to clean fabric on outdoor furniture
Sometimes cushion covers need care and cleaning to make the patio furniture look like new again. Often, cushion covers are removable for outdoor furniture and can be cleaned similarly to cleaning other fabrics with your laundry.
Pairing outdoor furniture with fabric cushions can help make the furniture more comfortable to create great outdoor spaces no matter the size of your yard or outdoor space.
How to protect outdoor furniture from bird poop
Unfortunately, the weather isn't the only thing outdoor furniture needs to contend with. Messy humans, pets, bugs, and birds also have the potential to create stubborn stains.
The best way to avoid unsightly stains is to use furniture covers or storage when the patio furniture and dining table are not in use. You can also consider covered or enclosed outdoor spaces to keep your furniture protected from the elements.
Protecting your furniture with covers or in covered areas can also help to decrease how often you need to clean patio furniture while keeping outdoor furniture safe from many elements.
Cleaning outdoor patio furniture
Whether it's at the end of the season or at the beginning of spring, cleaning your outdoor furniture can feel like just another item on the to-do list. But remember, by spending a little extra time and cleaning your furniture properly, you'll be able to enjoy it year-round with family and friends for many seasons to come.
So don't put off cleaning your furniture using the tips and tricks you've learned here, and don't forget to give yourself some time to kick back, use the furniture, get comfortable, and enjoy patio season with your well-maintained furniture!