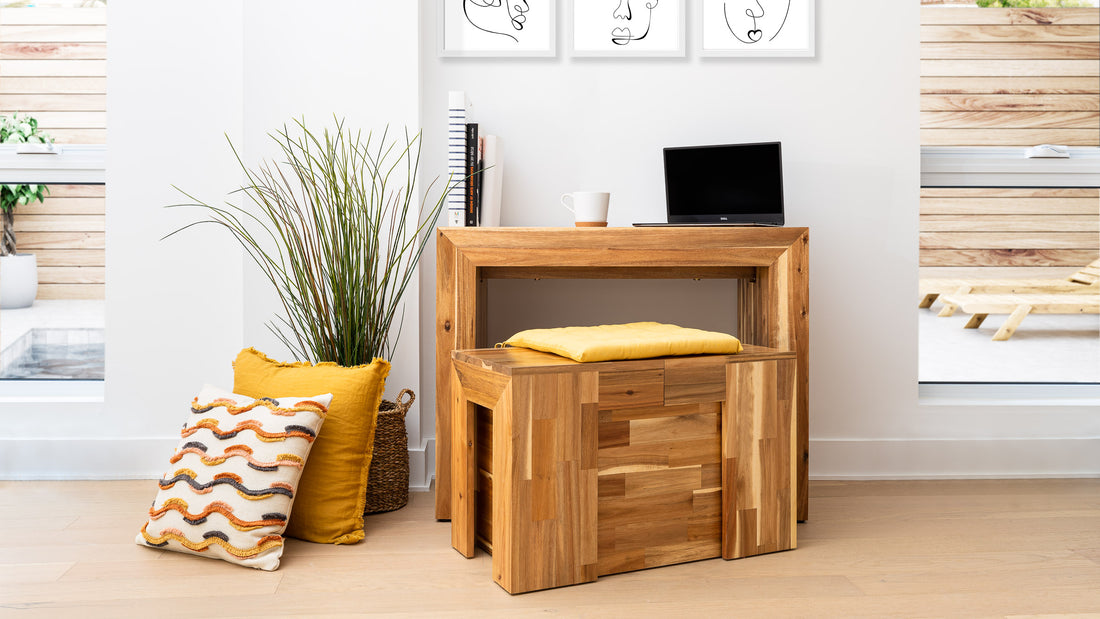 Modern Office Furniture Ideas
Share
Even though the pandemic has redefined the idea of workspaces, offices are still widely relevant today and some may even want to consider revamping their home office. With this in mind, let's take a look at how you can spruce up your office with modern furniture ideas that will make you more productive and feel better when at work.
Whether you need to decorate and furnish your home office, your cubicle at work, or the whole office for your employees, you are going to want to take a look at the tips and tricks we have for you to take your setup to the next level and have a modern office.
Home offices are now becoming more common as more individuals work from home. Fortunately, you can create a creative and practical workstation with just a few modern office furniture ideas. In addition, with a focus on minimalism, a home office with a modern design might be more economical.
What To Consider When Planning a Modern Office
Natural wood materials are a classic choice for traditional interiors, while neutral colors like grays and whites are a hallmark of modern design. These colors can be combined with almost any type of decor to make accents and accessories stand out.
Modern office furniture ideas should also be linked with decor. Decor sets the tone and theme. Whatever you choose should stand out and catch the eye of anyone walking into the room. Choose eye-catching art or metallic fixtures and accessories that pop against the mellow tone of the walls.
Everyone requires a little variety in their work environment. As a result, there is no such thing as a common solution when building your own home office. It's important to keep your personal needs in mind to be creative and productive.
You can transform any part of your home into a home office if you keep this in mind. No interior designers, professionals, or even extra rooms in your home are necessary. You can create your own office within your existing space with just a few tips.
Modern Office Furniture Ideas To Inspire
When designing and furnishing your modern office, you will want to consider your needs and ideals. Essentially you want to list all the things you consider necessary to provide a comfortable and inviting environment for you or your peers.
Here are a few tips and essentials we consider necessary when planning and designing the perfect modern office. There may be more ideas out there, and you may even come up with some of your own, so keep your eyes peeled and start planning with what we have put together for you.
Think Minimal
It's best to keep things basic in your office if you're striving for a modern vibe. Although furniture that includes cutting-edge technology, such as adjustable height systems, is a step in the right direction, avoid unnecessarily elaborate design components.
Although minimalism and simplicity are primarily achieved through well-designed furniture, they must also be supplemented with a clutter-free work environment.
Don't overcrowd your office with furniture and decorations. The appearance of a modern workspace should be open and airy. Keep paperwork filed away, keep hallways clear, and avoid stuffing your walls with too much stuff.
Size Adjustable Furniture
Ergonomics and adjustability are very important to fit our needs when working. Sometimes we need to be able to move things around to prepare for certain activities, at other times it may be essential to be able to lift your desk up, bring your chair down, or tilt and angle surfaces to better accommodate what we're doing.
Because they allow you to transition between sitting and standing during the day, adjustable desks are popular in ergonomic offices. This function can help to reduce the strain on your back while still allowing you to sit when you desire.
Chairs that can be adjusted are a must! Multiple adjustability features are also available for the greatest ergonomics for your body. Swivel chairs with caster wheels and a spoke base provide mobility throughout the workday.
Practical Furniture
It's important to have functional furniture in any space, but when it comes down to the office it's just logical to go with furniture that serves a purpose. Whether it comes down to storage, practicality, multiple uses, or a single purpose, having furniture that serves a purpose is a must!
Fortunately, most modern office furniture is practical and functional. Whenever you sit down to plan your office space, take into consideration what type of furniture you'll need. You will for sure need a desk, storage solutions, filing cabinets, and comfortable seating arrangements.
Go with comfortable, durable, and practical furniture that you will use daily. Office furniture that just fills up space seems a bit illogical, so don't go crazy purchasing unnecessary furniture and maybe start with a basic setup that you can build on later.
Pick a Good Office Chair
Choosing an ergonomic office chair is a vital step in creating a modern home office. Nearly half of people suffer from back problems as a result of bad seat design, and purchasing the wrong workplace chair could put you in that category.
It's best to go with a chair that adjusts to your height to ensure maximum comfort. Your feet should be able to rest flat on the floor while the rest of your body feels cradled in the seat with your thighs straight and your lower torso, or lumbar region, properly supported.
The armrests should adjust to a perfect height, rather than extending your arms to reach them and much of the rest of the chair should be the same. You shouldn't have to do any work just to sit.
Go With Modern Desk Solutions
After selecting your desired seating arrangement, take some time to pick a comfortable and appealing desk that you will feel comfortable in.
The monitor should be at a comfortable viewing level to keep you from having to strain or move your neck to see it. Many business workstations are standardized at 29 inches.
You must also measure your room and select a properly sized desk. If you are trying to save space crate a multi-purpose room, your desk might end up being smaller than it would if the office had its own dedicated room. You should also consider that a desk will not be the only thing an office needs. Consider whether you have room for bookshelves, chairs, sofas, and any other office furniture you'd like to add.
Choose Multifunctional Furniture
Just as it's important to choose practical furniture, we may see more benefits to choosing multifunctional pieces that will serve more than one purpose. It's very important to be effective and practical when working, but it's equally important to keep clutter away and open up space to free our minds of clutter.
If we go with multifunctional furniture that will allow us to do all we need without having to buy an independent piece for each purpose, we will keep spaces open, and our minds busy.
Durable Furniture
As we went through previously, office furniture has to be durable. If we expect to be using these furniture pieces daily, we can expect them to see some use and abuse that will naturally start damaging or deteriorating parts and pieces.
Go with sturdy and high-quality materials. Fortunately, most of the modern and slick looks have metal or hardwood pieces that will last longer than average furniture that just breaks down after repeated use.
Where Can You Get Inspiration For Modern Office Furniture Ideas
There's a lot to think about when planning or getting inspiration for our modern office furniture ideas. The first things to take into consideration are your personal and professional needs and experience, you can get some inspiration by speaking to colleagues or visiting your peers' office spaces.
After taking your needs and wants into consideration, you can browse the web, and visit shops or even other offices to get a grasp of what you desire. With an almost endless array of possibilities, it's almost impossible to pinpoint where you will find inspiration, it may even come to you at the most unexpected times.
One of the most important characteristics of a modern office is how light and practical it should be, so at the end of the day the less you need, the better. You can always add to your setup to improve or adjust to what you need at the present moment, but initially, you should go with the minimum requirements and build from there.