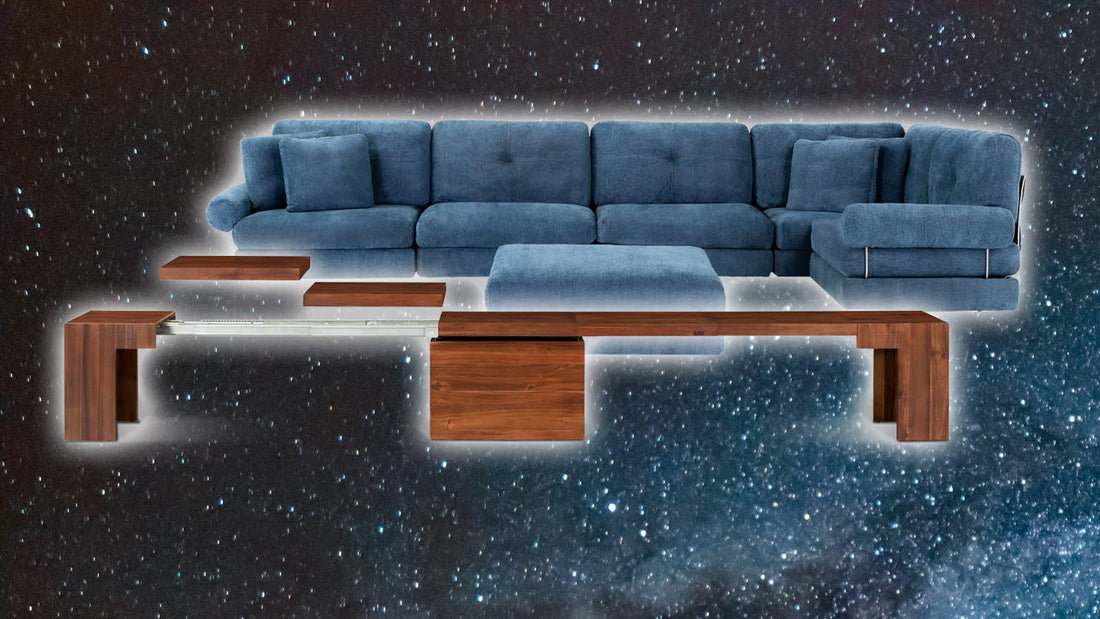 Time-Traveling Furniture!
Share
What's cooler than a DeLorean that travels back in time to 1955? How about a table and sofa that travel forward to your future home. Transformer Table hasn't mastered temporal physics, but they have figured out an ingenious approach to the physics of decor – modular furniture that changes size to fit any space, allowing it to move through time to wherever your next dwelling is. 
Think of it as the space-time continuum of home decor.
You'll never need to worry about your furniture not fitting your new place. Transformer Table furniture is designed to grow with you, as you travel from the present into your future dining and living room.
Traditional tables and sofas are stuck with one shape and size. Which means they're stuck in the present. If the shape of your room changes, you're forced to buy a new set. 
Transformer Tables and Couches extend and contract to any size. They're as perfect for today as they are for tomorrow.  
Where is your future headed?
You're likely to move in the next five years. The Transformer Table and Couch's modular construction ensures you won't have to worry about purchasing new dining room and living room furniture when that day comes. Extend or contract it as needed. Whether you upsize from an apartment to a house, or downsize from a mansion to a condo, a major part of your decor is taken care of. 
As for the physical move itself, Transformer Table furniture literally takes the load off. The Transformer Couch disconnects into easy-to-move sections. No more struggling to squeeze a large sofa through a small doorway and lugging it up and down stairs. Each section can be lifted and moved one by one without strain, then, once in your new place, reconnected into whatever layout works best. 
The Transformer Table can collapse into a console small enough to fit into your car. No bangs, scratches, backaches, or moving vans - shrink it, stash it in any hatchback, and carry it easily from place to place.
Time-traveling fashion
The Transformer Table's sleek design blends beautifully with today's modern decor. It can also bring you back to the past with its beautiful hardwood finish that complements a rustic, traditional decor. Whatever the time period, past or present, Transformer Table makes your home look great, in addition to its multifunctional use.
The Transformer Couch is not just endlessly configurable, it can be changed to a different color in minutes. Want a fresh new look? Keep the sofa, change the covers. Every part of the Transformer Couch – cushion, back, pillows, arms – has a removable cover which can be slipped off and replaced with a different fabric. All covers are machine washable and interchangeable, with a fashionable choice of colored fabrics to choose from.
And of course, they're designed to allow your Roomba to travel under them!
Aside from their great look, the Transformer Table and Couch are the industry leaders for furniture that travels easily and travels forward. By giving you total control over your space, you gain a dining table and sofa that can be taken with you through time. 
Discover the amazing benefits of Transformer Table's
revolutionary line of furniture
.