Transformer Dining Set 4.0 - The Host
This host set includes the only extendable solid wood dining table of its kind that seats from 2 to 12 people, and one 6-in-1 expandable bench.
DELIVERY BEFORE CHRISTMAS

Installments in
partnership with
Customize your package directly at checkout
Add-ons
Transformer Coffee Table - Panel Storage
Subtotal:
$4,097
$2,999
+ Free Shipping
Free and Fast Shipping over $999
Still need some help?

Our product experts are here to assist you with any questions you may have and guide you through the order process:
Free Delivery Over $999
Continental USA, Canada & 35 countries.
Lightning Fast Shipping
Delivery in 3-10 business days*.
No Assembly Required
All of the heavy lifting was done on our end - enjoy it right out of the box
Solid Wood Furniture
Eco-consciously sourced from responsibly managed forests.
Weight & Support

Weight

Transformer Table™: 
Console - 50 kg ⎮ 110.23 lbs
Panels - 25 kg ⎮55.12 lbs

Transformer Bench™: 
Console - 35 kg ⎮ 77.16 lbs
Panels - 10 kg ⎮ 22.05 lbs

Transformer Chairs™: 7.9 kg ⎮17.4 lbs

Support

Transformer Table™: up to 750 lbs ⎮ 340.19 kg
Transformer Bench™: up to 1500 lbs ⎮ 680.39 kg 
Transformer Chairs™: up to 400 lbs ⎮ 181.44 kg 

Materials

All of the furniture in the Transformer Dining Set™ Collection 4.0 is made with solid wood, as well as steel hardware and mechanisms.

Transformer Chairs™ upholstery is 100% polyester.

Care

Simply use a lint-free dampened cloth with a touch of gentle wood-specific cleaner and wipe in the same direction as the wood grain. Doing so on a regular basis will keep your Transformer Dining Set™ looking as clean as the day it was delivered to your home. 

This furniture line is scratch, heat, stain, and liquid resistant. Due to the nature of the solid wood materials, we highly recommend taking the necessary precautions to keep your dining table looking brand new for many years to come, such as using protective accessories like tablecloths, placemats, coasters, and hot plates to shield your Transformer Table™. Make sure to store your different Transformer Table™ components in the same living space as much as possible, and always keep them in a climate-controlled area. Optionally, you can occasionally use solid wood polishing oil to restore the shine of your hardwood furniture pieces. In the case of an accidental scuff, we do include a bottle of touch-up stain with each Transformer Table™ order so you have a perfect match on hand.
Dimensions
Console
18"L x 37.5"W x 30"H
1 Panel
38"L  x 37.5"W x 30"H
2 Panels
58"L x 37.5"W x 30"H
3 Panels
78"L x 37.5"W x 30"H
4 Panels
98"L x 37.5"W x 30"H
5 Panels
118"L x 37.5"W x 30"H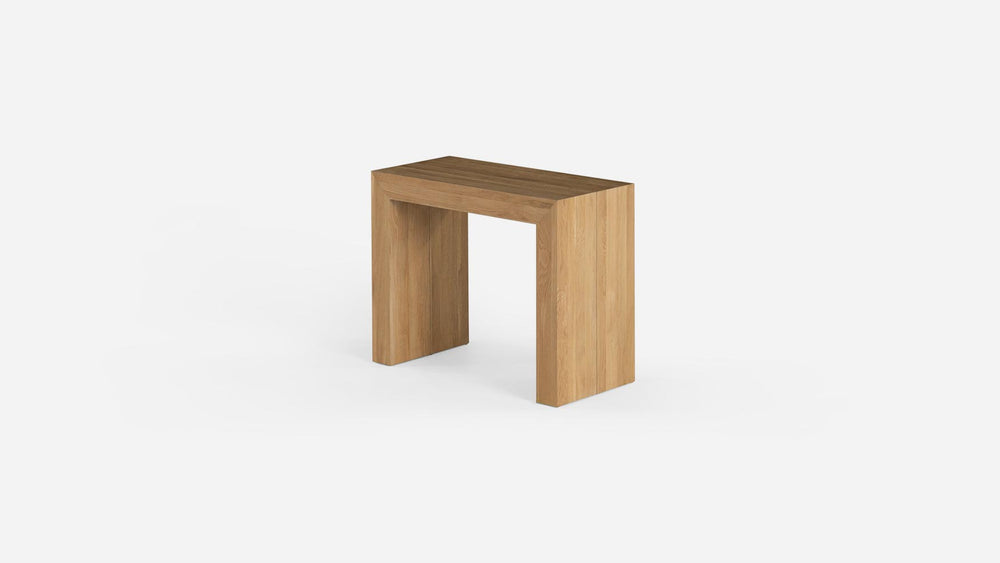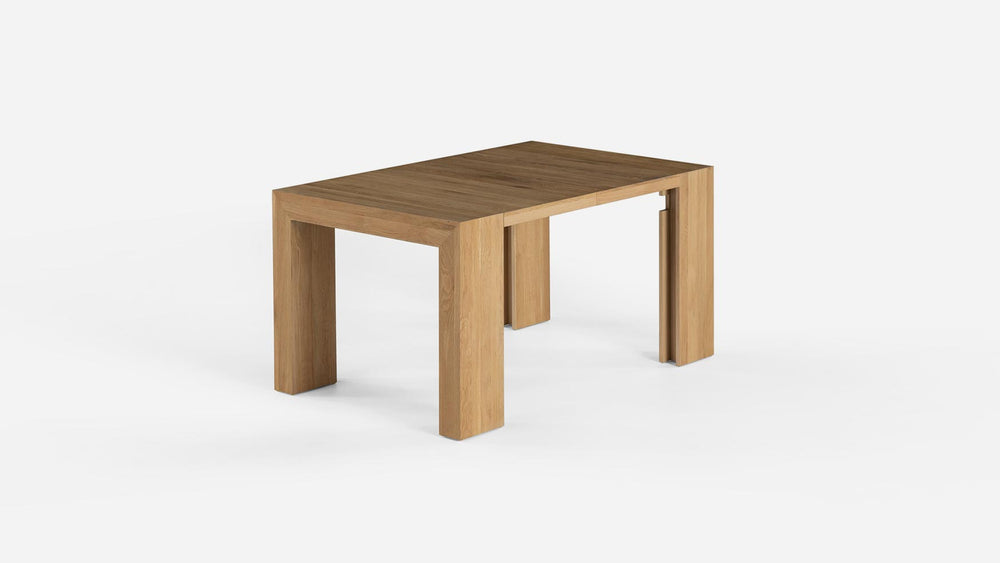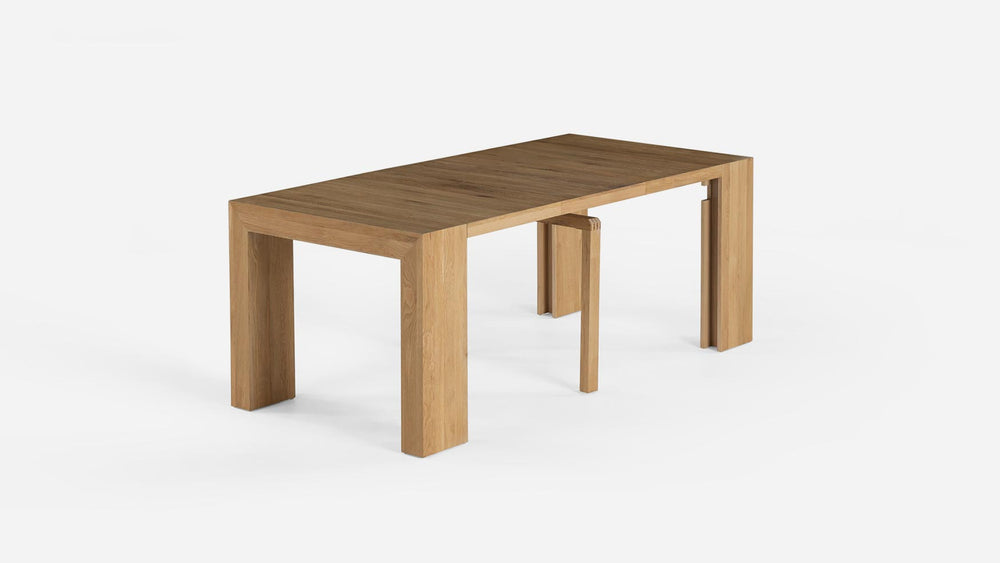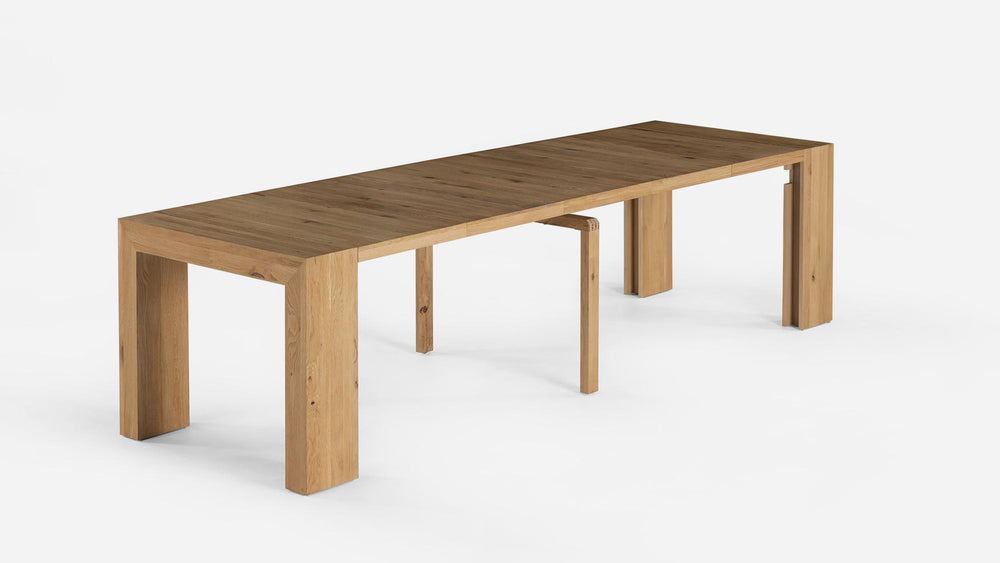 Scandinavian Oak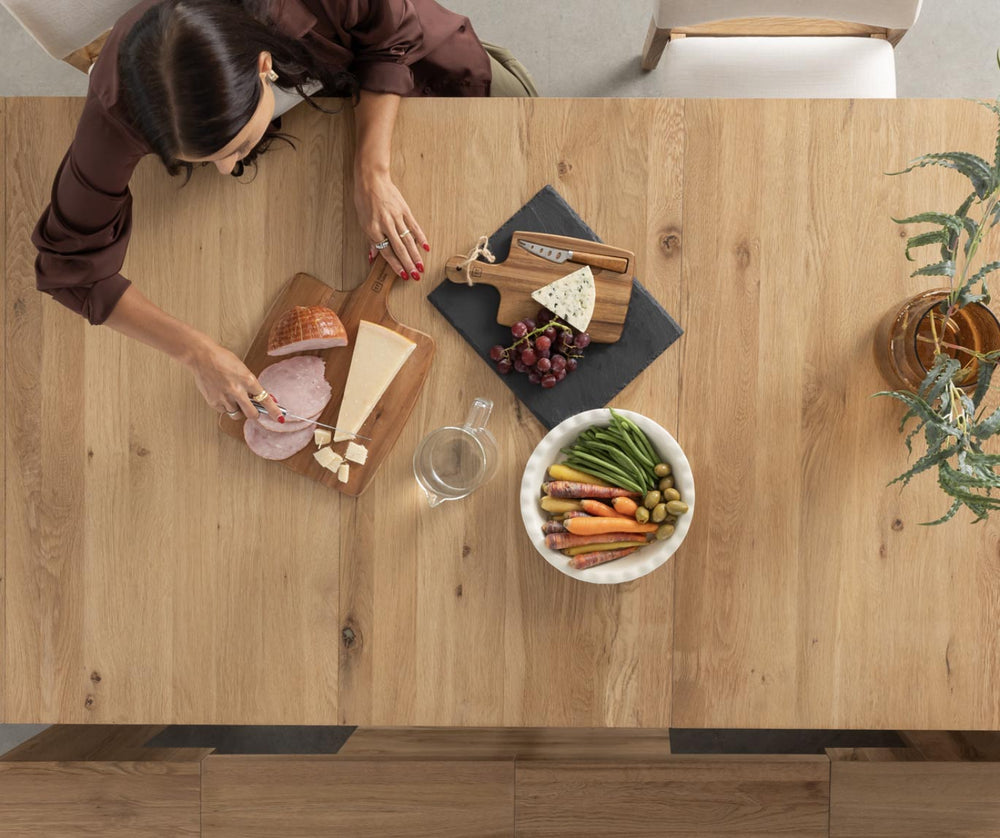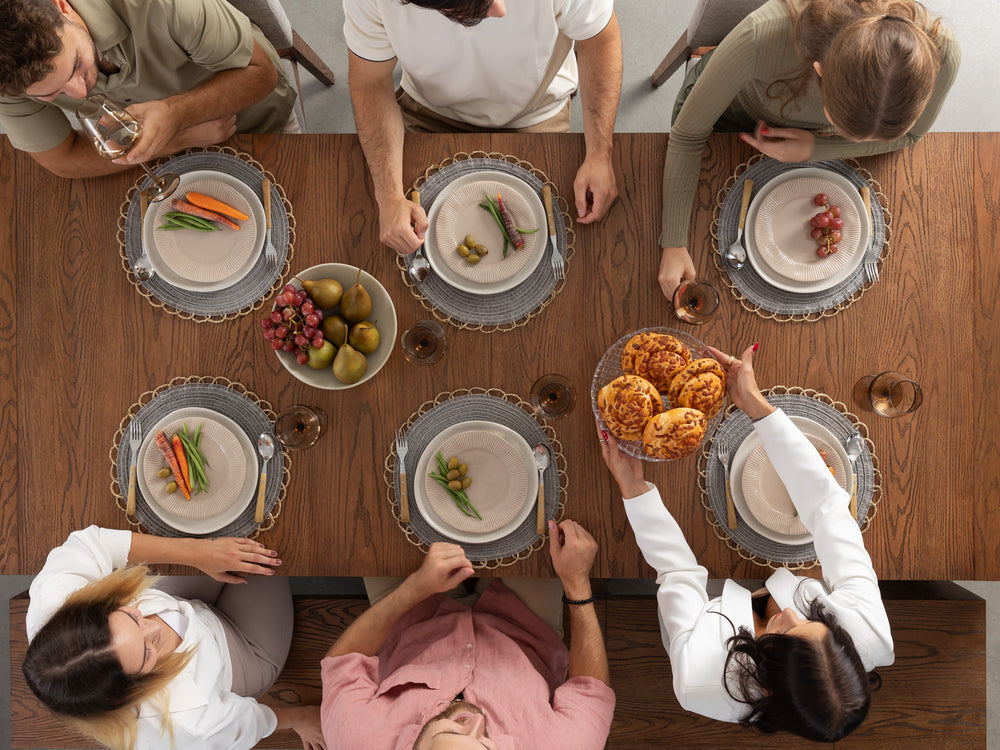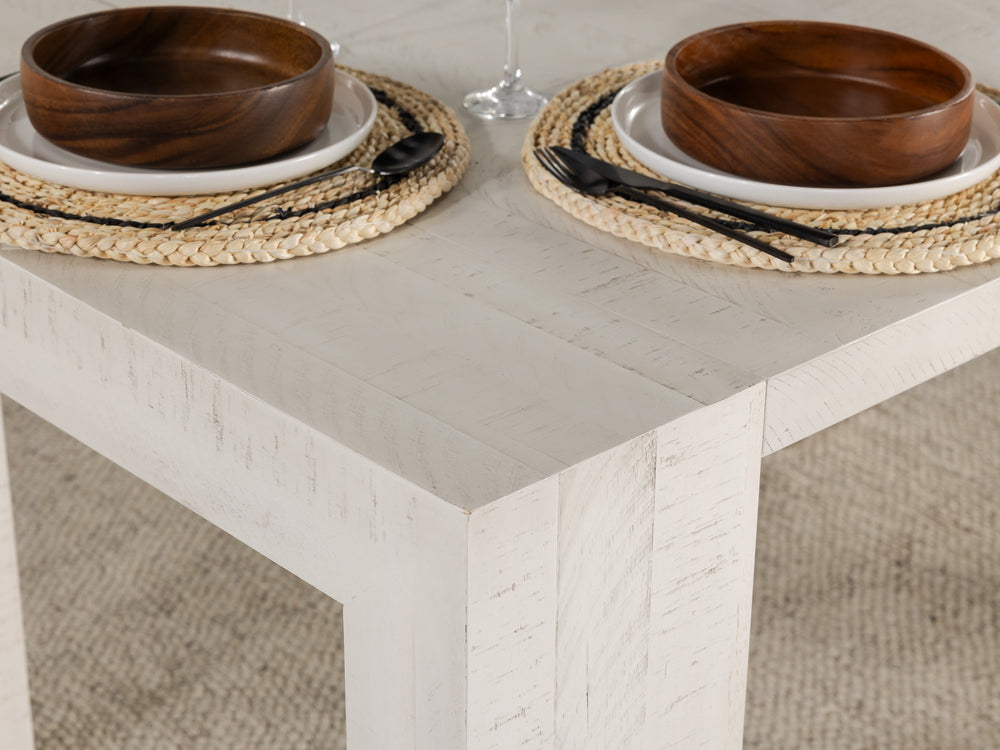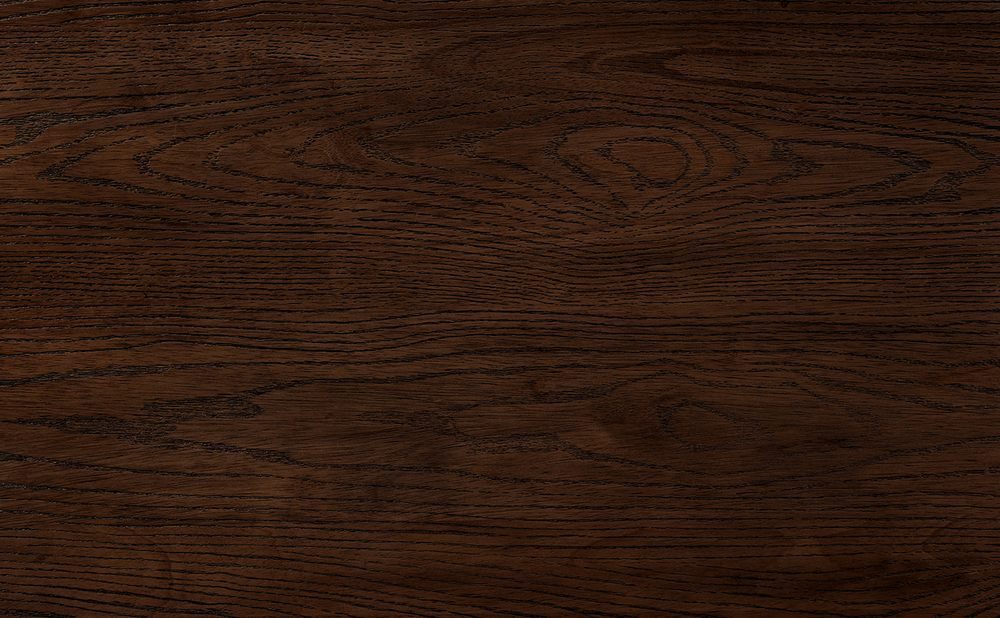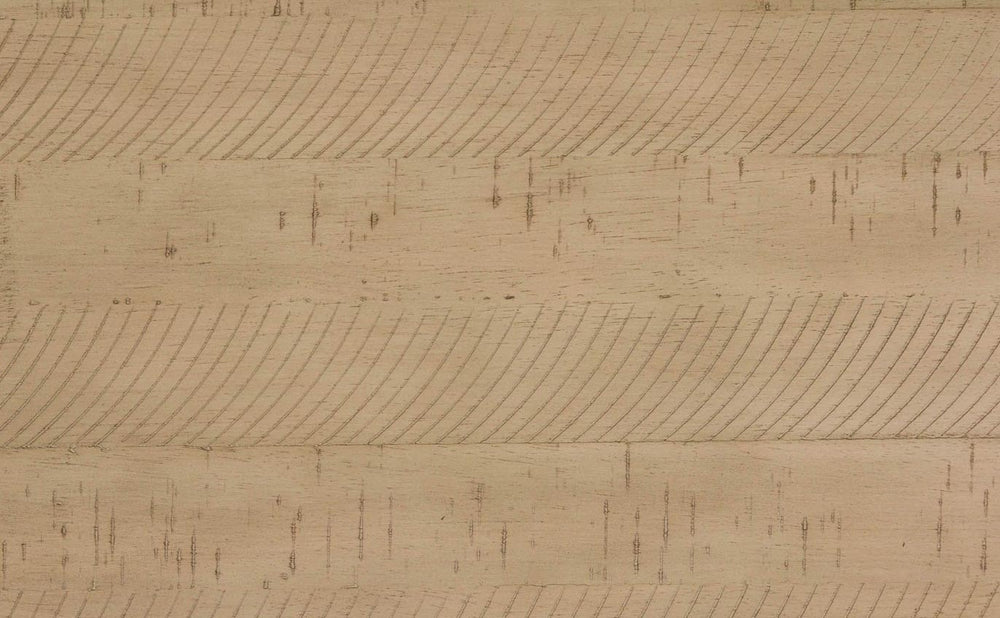 Inspired by textures of nature
This solid wood extendable dining table is unlike any other you have ever seen. Regain ultimate flexibility in your dining space with the versatile Transformer Table™, which allows you to expand its size from as small as an entrance console all the way to a long banquet table for 12.